Hold onto your tissues, avid fans and sad bois alike will get everything they could ever want with Illenium's announcement of his third album dubbed ASCEND just days ago, following that up with his Nationwide tour announcement with a stop in the Pacific Northwest for two days in Seattle (27th and 29th).
Right on the heels of his release of the emotional anthem with his John Bellion collaboration "Good Things Fall Apart"— this announcement is literally everything that his dedicated fan base, especially in PNW, could hope for. The artist surprised fans on social media with the announcement that he'd be releasing a third album, ASCEND, before the summer comes to an end. The release date set for ASCEND is August 16, with more information "coming soon," as stated in his Tweet that shared the news.
Awake, Illenium's previous album, was an overwhelming success. It introduced audiences to a mind-blowing number of heart-hitting, tear-jerking tracks. Based on the reoccurring themes in his single artwork this year, so far, we can definitely assume that the tracks: "God Damnit" with Call Me Karizma, "Crashing" featuring Bahari, "Pray" featuring Kameron Alexander, and "Good Things Fall Apart" with Jon Bellion will all be part of this new creation.
WAMU will be bringing his tour in full force, with the first night (11/27) featuring the new album and the second (11/29) featuring a special throwback set that, in our opinion, is one that cannot be missed. WaMu, and Red Rocks are the only two cities that will have a throwback set night.
Check out the full tour schedule below: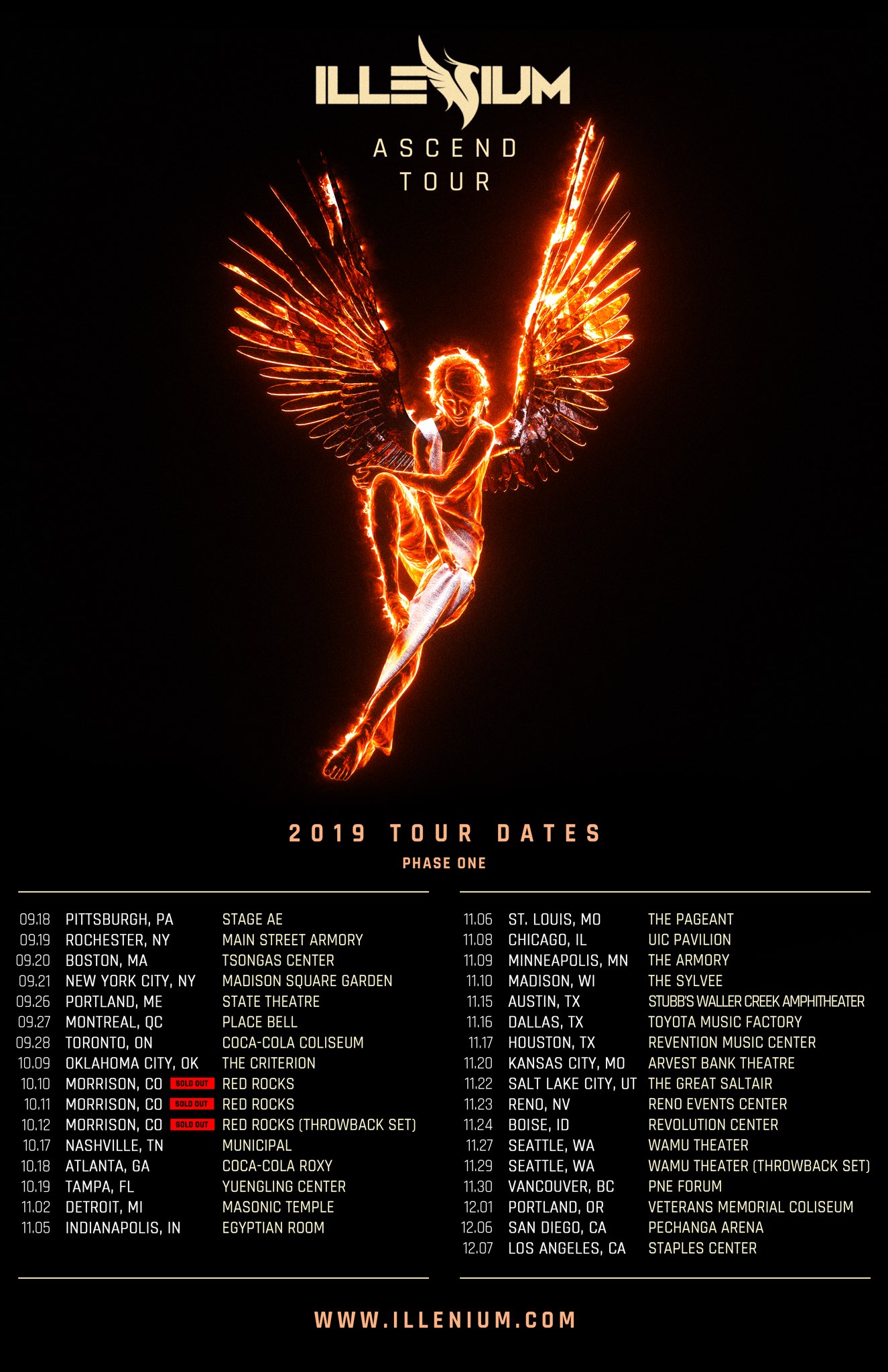 Are you excited about this new album and tour? Let us know on Facebook and Twitter!
SIGN UP FOR ALERTS
Important things happen in Pacific Northwest nightlife, and DMNW will send you alerts!