Adventure club recently released this banging new volume of 'Superheroes Anonymous'! Full of new music from Shock One, Panic City, Twinz Beats and more!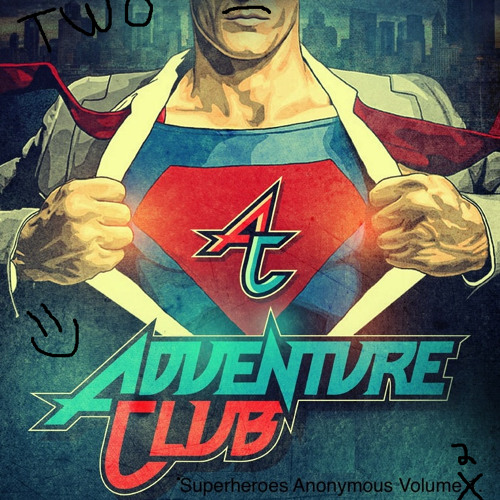 Track List:
Premiered on This Song Slaps (Mixify Festival)
www.thissongslaps.com/2013/06/tss-pr…onymous-vol-2/
The Aston Shuffle & Tommy Trash – Sunrise (Shock One Remix)
Skrillex Ft. Ellie Goulding – Summit (Panic City & Mistermike Remix)
Knife Party – LRAD (BMBX CTRL Remix)
Adventure Club ft. Krewella – Rise and Fall (KDrew Remix)
Bourke & Vegas – I'm Alive (Jarvis Remix)
Konec ft Anna Yvette – The Void
Brass Knuckles – Bad Habits (Twinz Beats Remix)
Nari & Milani – Atom (Oh Snap!! Remix)
Ace Hood x Future – Bugatti (Heroes X Villains Remix)
T.G.C.F – Say What You Do (Kill Paris Remix)
Clark Kent & Yinyues – Cosmos (Skrux & Complexion Remix)
Noisestorm – Together
Trinidad James – All Gold Everything (MAKJ Remix)
Emalkay – Flesh and Bone (Dismantle Remix)
DJ Snake – Together
The Kooks – Naive (Billy Kenny Remix)
Tina Moore – Never Gonna Let U Go (Billy Kenny Corrupt Remix)
Karma Kid – In My Arms
Mark Lower – Bad Boys Cry
Alexisonfire – To A Friend (Adventure Club Remix)
James Vincent McMorrow – We Don't Eat (Adventure Club Remix)
Adventure Club – Wait (Culture Code Remix)
Childish Gambino – Heartbeat
Audiobot – Galactic
Kid Kamillion – Say Whut!
Showtek – Slow Down (BMBX CTRL Remix)
Chuckie vs Dzeko & Torres – Down To This
Dimitri Vegas x Like Mike x GTA ft Wolfpack – Turn It Up
Nari & Miliani and Maurizio Gubellini Feat Nicci – Vago
John Dish – Karma
Ray Foxx, Rachel K Collier – Boom Boom (Heartbeat) (Taiki & Nulight Remix)
WILKINSON – Take You Higher (Foamo Remix)
Afrojack – Annies Theme (Carnage Remix)
Laidback Luke – Pogo (Twinz Beats Remix)
Roberto Da Costa ft. Daphne Khoo – Excited (Sick Individuals Remix)
Tiesto – Chasing Summers (R3hab & Quintino Remix)
W&W – Thunder (BARE Remix)
Adventure Club – Outro
SIGN UP FOR ALERTS
Important things happen in Pacific Northwest nightlife, and DMNW will send you alerts!